Holistic Business
with Belinda Leskiw
Conversations on Business, Body and Burnout
Welcome to the Podcast
Below you will find conversations on body, business and burnout – three of my favourite topics!
If you would like to suggest an episode topic or be a guest on the show, please get in touch below!
Podcast available on Apple Podcasts, Spotify & Anchor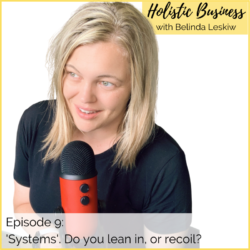 Episode 9: 'Systems'. Do you lean in, or recoil? Are you someone who hears the word 'systems' and instantly recoils?Then this episode is a must-listen.I go through what actually is a system anyway, the way I view systems, how I work with clients' businesses and the...