Holistic Business
with Belinda Leskiw
Conversations on Business, Body and Burnout
Welcome to the Podcast
Below you will find conversations on body, business and burnout – three of my favourite topics!
If you would like to suggest an episode topic or be a guest on the show, please get in touch below!
Podcast available on Apple Podcasts, Spotify & Anchor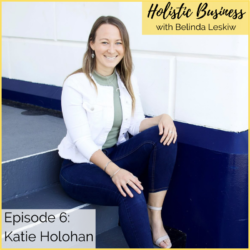 Episode 6:Balancing structure with flow in your business with Katie Holohan In this episode I chat with Katie Holohan, an Embodied Women's Mentor and Women + Children's Naturopath. She also happens to be one of my besties!We deep dive into the masculine and feminine...